Passionate Intimacy Workshop
Home study version of the workshop proven to improve relationship and sexual satisfaction in married couples.
Enroll now
Couples who have been through the live version of the Passionate Intimacy Workshop have provided great feedback. The average rating for the workshop is a 9 out of 10. More importantly, almost everyone who attends reports a positive change in their overall marital satisfaction and sexual satisfaction as a result of the workshop. Six months later, 75% reported it was still improving their sexual relationship as a couple and 85% said it was still improving their overall satisfaction as a couple.
We are excited to offer the workshop in a format that you can use at home. This video format is designed for couples to watch, and discuss together. It comes with a digital copy of the workbook used in the live format as well as all the handouts we use.
We encourage you to purchase the entire workshop (full color button), but should you choose, you can also purchase individual segments (greyscale buttons).
Note that the Friday evening talk (and hand exercise) is only available when you purchase the entire workshop.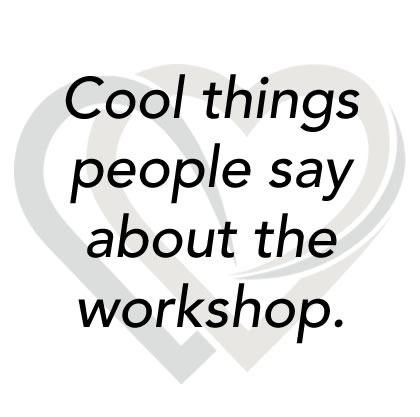 "I learned I'm normal! I'm not broken. For so long I have felt like something was wrong with me sexually. Dr Mike helped me know I'm ok." - Wife who attended in Atlanta
"We learned how to better talk to each other about the topic, and now have language and examples that lend dimension to what we thought was a one-dimensional issue for us." - Attended in Nashville 2017
"I loved how Dr Mike interpreted scripture for us on intimacy. I also really appreciate some of the solid facts about intimacy that people are not aware of, including us." -

Attended in Wichita 2017

"It was very helpful to know that I'm normal. I appreciated the discussion on sex from a Biblical view point. The information on arousal and apex were very helpful."

- A wife who attended in Vermont
"My favorite part was reconnecting to who we have lost over the years since the busyness of kids came to our lives." - Husband from Nashville 2016
"Dr Mike was great in his transparency and was easy to follow and understand!!" - Wife from Memphis 2015
"Dr Mike's humility and humor immediately put me at ease. I love the way you eased into the heavier topics. I wasn't excited about attending a conference about sex, but you made it so much more than that." - Wife from Memphis 2015
"As a someone who has been wounded in this area at a very young age, anything dealing with the subject matter can go very "South" for me really quickly. I was pleasantly surprised at how safe Dr. Mike made me feel." - Attendee from Albany 2014
"I thought the statistics and 'realistic' figures about couples and their struggles were really helpful. Helped us feel a little more normal and hopeful." - Attendee from Atlanta 2014
"Thank you so very much. The message of this conference has transformed our marriage. God did so much healing in our relationship over this weekend." - Attendee from Atlanta 2014